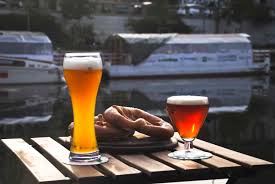 From October 19 to 21 a bit of Germany arrives in Milan with the Oktoberfest in Darsena. For three days on the pier of the Naviglio it will seem to be in Munich with mugs of beer, bretzel, shin, frankfurters and sauerkraut and themed staging with traditional white and blue flags and balloons, the characteristic colors of the German event.
Starting at 6pm on Friday, and throughout Saturday and Sunday at Vista Darsena and Social Market will be proposed jugs of three types of German beer: Sternquell Kellerbier Pils, a light keller-style light beer; Paulaner Salvator, amber red beer, one of the main expressions of the German brewing style known as Doppelbock; and Erdinger Weissbier Oktoberfest, seasonal beer produced for the occasion, cloudy and fruity.
The consummation can be accompanied by the typical bretzel, sandwiches with wurstel and sauerkraut, polenta concia with fondue of zola or mushroom sauce, apple strudel with vanilla sauce. From Vista Darsena also shin to beer with baked potatoes, while from Social Market fish and chips.
Check our availability and prices at the best price guaranteed