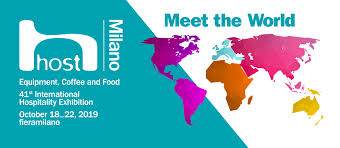 HostMilano is the world's leading trade fair dedicated to the world of catering and hospitality. A reference point for professionals from outside the home and a privileged marketplace for doing quality business.
Now in its 41st edition, HostMilano presents every two years all that is needed for a successful venue, in one place: from raw materials to semi-finished products, from machinery to equipment, from furniture to tableware. Ensuring at the same time an in-depth look at future trends. What has always distinguished HostMilano is the unique exhibition concept, which combines the vertical specialization of the dedicated areas with the affinity of the supply chain in three macro areas: Professional Catering; Bread | Pizza | Pasta - Coffee | You; Bar | Coffee machines | Vending; Ice Cream | Pastry -Furniture | Technology | Table
In Milan from 18 to 22 October 2019, professional operators will find a complete cross-section of the best hospitality and global hotellerie, with the latest industry news in terms of equipment, raw materials, equipment and semi-finished products. All completed by an unparalleled schedule of appointments in which experts and top players will share case histories and know-how, including show-cooking, competitions and conferences.
Check our availability and prices at the best guaranteed rate