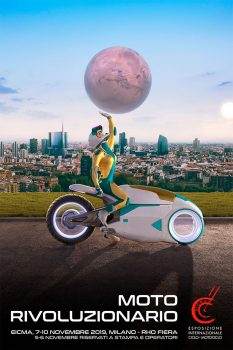 The road to the 2019 Milan Show is officially open. Eicma has unveiled the image of the 2019 campaign: in continuity with the philosophy of last year "We see roads that do not yet exist", the second stage of a conceptual exploration takes place which, after having gained new knowledge on the red planet, makes return to earth, in Milan, with one goal: to evolve the world of two wheels, revolutionizing it.
The EICMA (acronym for International Motorcycle Cycle Show and Accessories), also known as the Milan Motorcycle Show or, again, as the Cycle and Motorcycle Show, is the most important event for the world of motorized two-wheelers.
For exhibitors and visitors it is an indispensable event, in fact all the new products coming from the main manufacturers are shown and presented.
The 2019 edition of the EICMA, the 77th for the event, will take place from 7 to 10 November. Journalists and sector operators will be able to access, on preview, 5 and 6 November.
Check our availability and prices at the best guaranteed rate